Festival of Dreams Santa Cruz
Sunday, March 11, 11am-5pm
at Louden Nelson Community Center
Featuring Founder of the Dream Interview Method
Dr. Gayle Delaney, "Dreams and Your Love Life"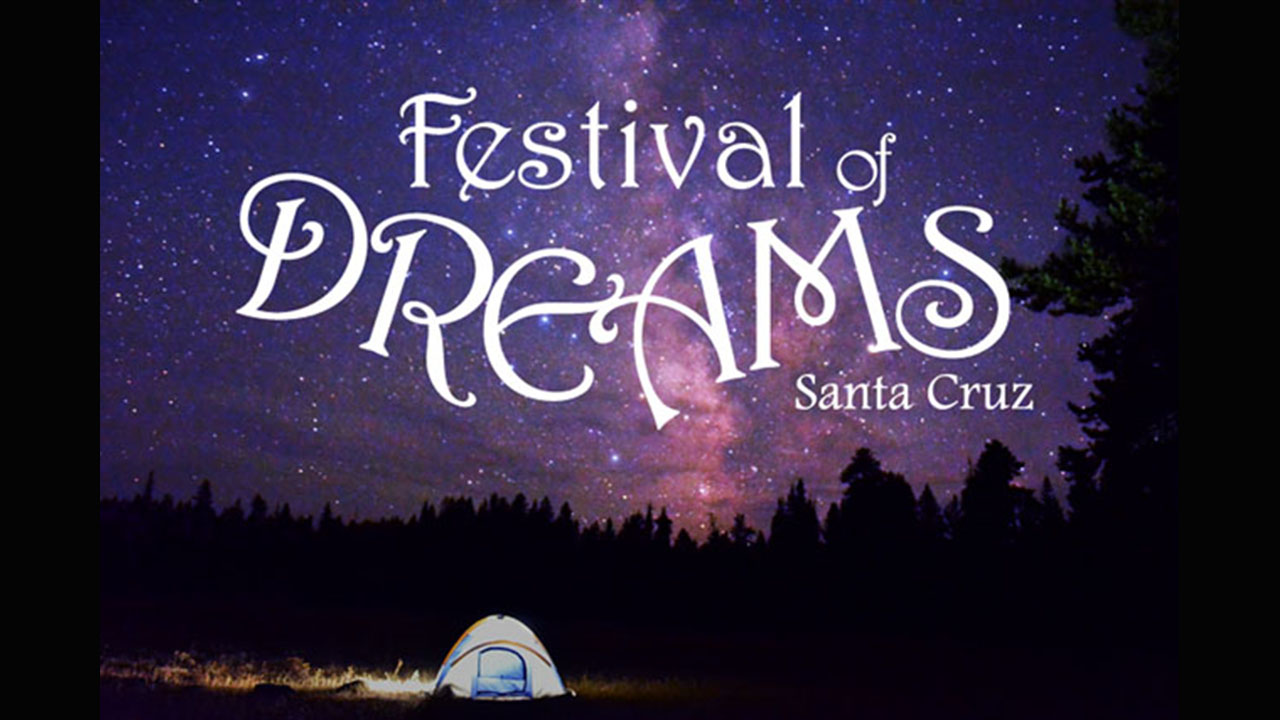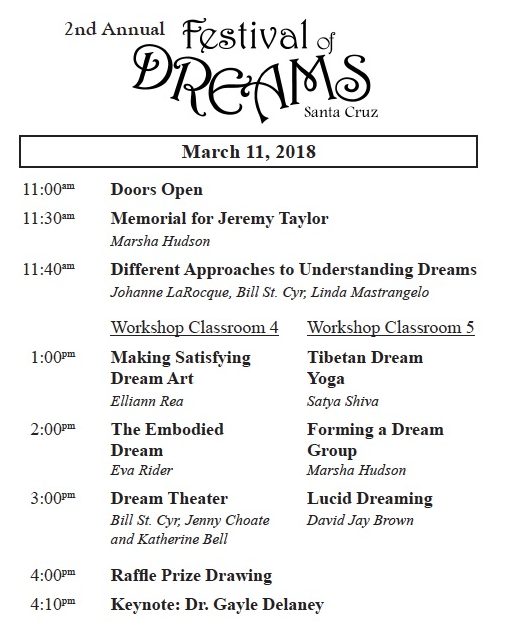 Katherine Bell, founder of the Festival of Dreams Santa Cruz, says: "Just as being conscious of our breathing enhances its healing effects (witness yoga and meditation), so too, bringing our dreams into consciousness enhances our sense of wellbeing. Working with dreams can unravel habitual reactions, resolve relationship issues, and bring a sense of purpose into our lives."
The Second Annual "Festival of Dreams" (formerly "Dream Caravan") will feature a Dream Expert Panel Discussion, six Interactive Workshops, Free Private Dream Consultations, and a Keynote Address by renowned author and dream expert Dr. Gayle Delaney.
"The Festival of Dreams is designed to uplift and enliven dreaming of all kinds, especially dreamwork that is focused on the transformative, healing, and inspiring aspects of dreams. The dreams we have at night, the dreams we have for ourselves and our communities, and the expressions of our imaginations are all aspects of dreaming that the Festival aims to encourage, explore, and support in any way possible." Kezia Kamenetz, Founder of the Dream Caravan concept
Highlights of this year's Festival:
• Keynote Speaker Dr. Gayle Delaney: "Dreams and Your Love Life."  A pioneer in modern dream work, Dr. Delaney has a special interest in the use of dreams to develop one's ability to love and to discriminate. Dr. Delaney's work teaching secular, private metaphor-based, interpretation aims at making dreamers independent of traditional pre-conceptions, and competent at figuring out their unique dreams, putting insights to work in daily relationships, creative work, and self esteem.
• Panel Discussion: "Different Approaches to Understanding Dreams"
• Six Interactive Workshops:  Lucid Dreaming: Dreaming Wide Awake; Introduction to Tibetan Dream Yoga; Unlocking Doors with Dream Theater; The Embodied Dream: A Jungian Approach; Capturing Your Nightsongs: Making Satisfying Dream Art; Forming a Dream Group.  The workshops are offered two at a time, so you can attend up to three workshops.  Schedule available soon!
• Private 30-Minute Dream Consultation with a skilled Practitioner for every attendee
Tickets are $25 in advance/$35 at the door with various multi-ticket discounts available. Tickets on sale now!
Also: Chair Massage; Raffle Prizes; Organic food and beverages for sale.  And new this year… Festival T-shirts!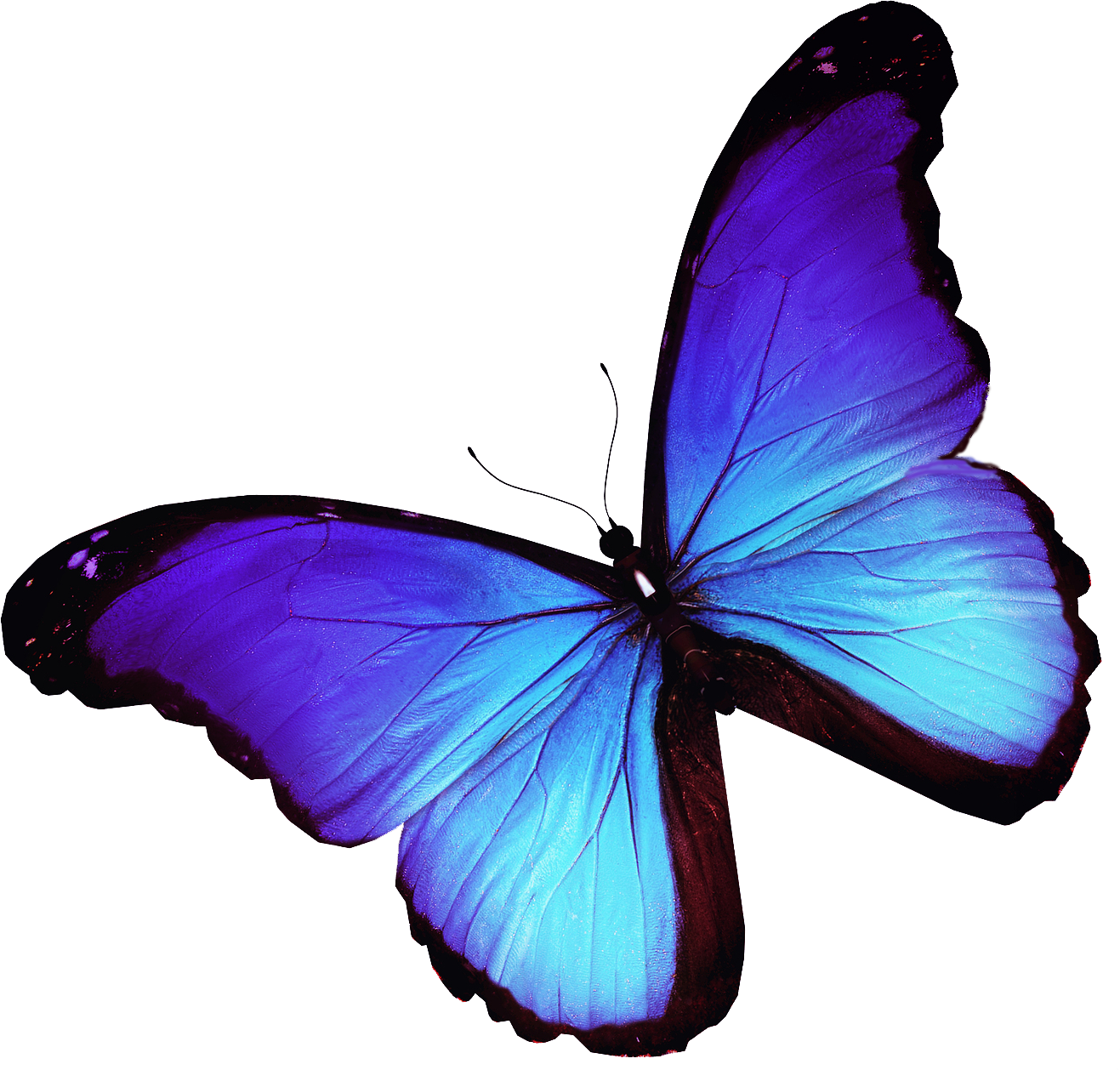 With heartfelt regret, we announce that this year's scheduled keynote speaker, Jeremy Taylor, passed away on January 3rd. The dreamwork community has lost a beloved leader and guiding light.
We dedicate this Festival to the loving memory of Jeremy Taylor.